Interview: Twisted Tower Dire
The Heavy Metal onslaught that is "The Isle of Hydra" floored me upon its release. So much so, I decided to hunt down Scott Waldrop, guitarist and spokesman, for this Virginian quintet for a discussion about identity, determination and evolution. If I remember correctly, it was originally conducted in the summer of 2002…
Salutations Scott!
Hail! Metaaaaaaaaaaaaaaaaaaaaaaaaal!!! Beer!!!!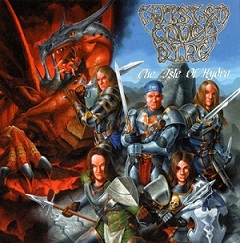 That's the spirit! Now with no further ado, the band released its second album in the latter half of last year and you have clearly come on leaps and bounds. The production is vastly superior, which really allows the quality of the song writing to shine through. Are you pleased with your latest recording and do you feel that you have progressed as musicians since the "Curse of the Twisted Tower" album?
Definitely! We've finally got a good producer now that knows what the hell he's doing, Kevin 131 of Assembly Line Studios in Virginia. I think the band has also progressed dramatically as a studio and a live band. The more experience the better! We've been playing our asses off all over and this certainly makes the band tighter as a unit all round. I'm extremely pleased with the way "Hydra" turned out but it's by no means perfect. We've all got tons of ideas on how to make the next one better. We want a thicker and more ambient production.
Let's consider the identity of Twisted Tower Dire. Whilst far from being a new band I think there would be few in Ireland who would be familiar with your music. How would you describe "The Isle of Hydra to them? And where do your influences come from?
"The Isle of Hydra" is a classic sounding Metal album with overtones of modern influence. It's an uncompromising metallic assault on symphonic power wimps. We're like a polished and epic version of Tank! Our Metal influences range from Uriah Heep's "Magician's Birthday" to Dark Angel's "Darkness Descends". If you want a straightforward plug, I'd say anyone who's a fan of Iron Maiden's "Piece of Mind" is in the dark if they don't own "Hydra". This is what we're all about! The original true, real and earthy, not digital sound of Metal! I hate all those modern over-produced computer recordings. Fuck that! Black Leather, Iron Maiden and Alcohol. This is all!!!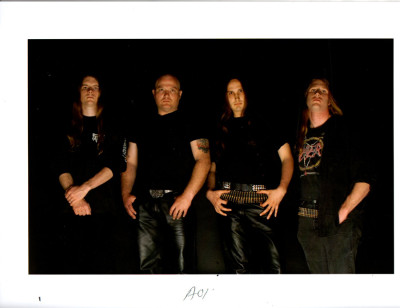 By now a vivid picture should have formed in your mind. Honest, uncompromising Heavy Metal with melody and aggression. The epic flavour of "Piece of Mind" is an apt comparison. I would never have put my finger on "Darkness Descends" but if you listen to the riffing on "The Longing" it starts to make sense. And their depth of influences brought to mind the range of formats on which "The Isle Of Hydra" is available. The album initially came out on CD and Gatefold Vinyl. "The Daggers Blade" 7" Single and a 7" Picture Disc will follow this. There are few who would offer such choice. Nowadays it is often a CD or nothing. I put it to Scott that his taste for classic Heavy Metal inspired the band's emulation of the classic formats.
Hell yes! I'm a vinyl collector. I've always loved vinyl and special releases. A band isn'tout. Vinyl is supreme though. No doubt. I'd love to put out a limited edition TTD beer too! Ha! Ha!
I had been wondering about the choice of the bonus tracks that appear on album. It occurred to me that they might hint at the direction the band is going to take while also wearing their influences in their sleeve. "Beyond The Gate" is an epic rousing hymn and it was put to good effect by placing it after "Dying Breath". So unexpected! Unfortunately, I had yet to hear the rendition of Mercyful Fate but I was intrigued by the choice. I did not think it was an obvious choice for the band but particularly liked the idea of Tony Taylor tackling the song his way.
Yes, you're right about wearing our influences in our sleeve. We get a great deal of satisfaction out of paying homage to our mentors, especially if we've done the song justice. As for the hidden track, "Beyond The Gate" is a very old song that first appeared on our '97 demo. We re-recorded it out of popular demand from our closest friends and fans then included it as a hidden track to give them a surprise gift. It's our way of saying thanks for sticking with us, believing in us, and following us for all these tremendously long, arduous, drawn-out, hectic, stressful and inebriated years!
It is a gracious gift that must certainly have been appreciated. As Scott said the years have been tough. Like many bands before Twisted Tower Dire they have been the victims of frequent line up changes. Bassist, Jim Morad departed after the recording of the new album. Judging by the liner notes he left of his own accord and undoubtedly he will be greatly missed.
When you have a band like TTD, who are completely on their own in a world of conformists and nay sayers, who are constantly trying to beat you down for sticking to your roots and being individuals, it's hard to keep band members inspired. Line-up changes are just about survival of the fittest. Those who are dedicated to the cause will stand the fight out. We've always had one rule of thumb on line-up changes: always upgrade in musician quality, never settle for a second best replacement. If TTD wasn't able to upgrade musicians over the years we would have fizzled out long ago. We would never let TTD go down the downward spiral of suckiness and then fade away like some pathetic joke. Instead, we slowly upgraded into a titan band. Now we've got the best line-up ever and we're totally ready to conquer the world. Live, TTD has become a fucking Godzilla monster that crushes the stage! As for Jim Morad, he's one of my best friends. The guy is like a brother to me so I would understand and support him on just about anything. He needed change in his life so he packed up his car, said goodbye to his family and friends, and moved 3,000 miles to California to find himself. I really respect that. It took a lot courage to start out new. The band meant a lot to him but I think he wanted to go out to see what else the world had to offer him.
Jim Hunter of October 31 fame has filled in the slot. Has it been a smooth transition bearing in mind both Tony and yourself have been playing in October 31 since May of last year?
Tony and I are no longer in October 31. We were both too busy with work and our personal lives to play in a second band. We learned that after about a year of rigorous gigging and attempting to balance two very active bands. It was a totally cool and smooth break up though. We're still very good friends. The past weekend Tony and I got up on stage with October and did "Voyage to Infinity" with them at the Milwaukee Metal Fest. I guess this symbolically was kind of like handing down the torch to the new line-up with our full blessings. As for Jim Hunter, he's a great friend and he's fit into TTD perfectly. It was definitely meant to be. Of course Jim is also involved with While Heaven Wept and Revelation as well so it makes things difficult as far as scheduling is concerned. However, we've never rum into any real problems. We're all friends over here.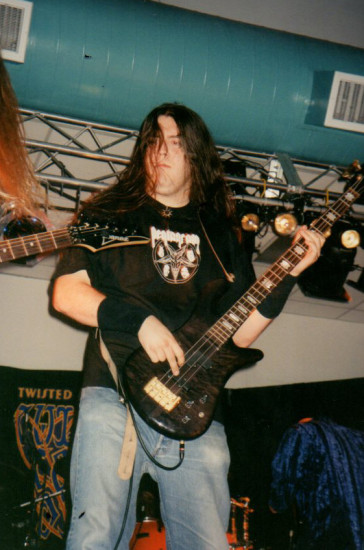 The bonds of friendship must be strong but I wonder if it ever acted as a double-edged blade. Did it confuse the boundaries between the two bands? How did you know if an idea was better suited to Twisted Tower Dire or October 31?
Well of course there have been hours upon hours of discussion as to what exactly the aesthetics are of each particular band. For instance, TTD is like a majestic army sweeping over epic plains whereas October 31 is like some fucking rabid gnarly beast that rips your head off and stomps on your corpse! Ha! Ha! Anyway, since Tony and I are just back doing TTD exclusively, there's no concern about the boundaries being crossed. There were a few writing sessions though where I wound up using some TTD riffs for October. They'll never use those songs but it definitely could have turned into a situation where both bands' styles began to blur into each other. It is for the best that this didn't happen as both bands stand alone so well.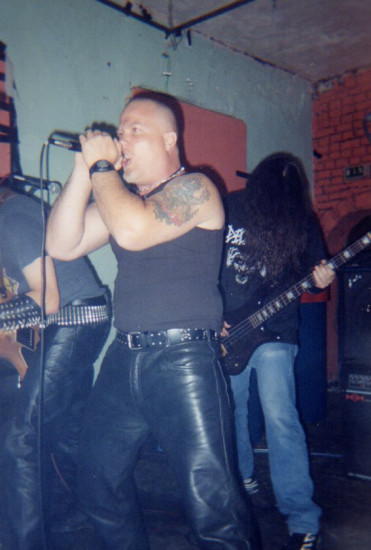 Pleased to hear it! I think it will help to keep the creativity fresh. Furthermore, you have been touring heavily over the past couple of years and it shows. The musicianship is tight. What have been the highs and lows on the road for the band? Who have really impressed you on stage? How was the reception on the German tour with Slough Feg?
Yeah, we kept playing better and better on our German tour. We didn't get too burnt out. The more we travel the more we learn to pace ourselves and take care of our bodies, get sleep and not wind up in the trash. Slough Feg gets my vote as one of the best bands I've seen this summer. They toured with just Mike on guitar and he filled those songs out wonderfully. They were total professionals. Even when there were a few awful technical problems they just handled the situations like cool motherfucking cats. I think it's a travesty that this band doesn't have the support of a label with more money and contacts. No offence to Dragonheart intended whatsoever. It just irks me to see unique and talented bands get shafted by a money-hungry industry with old farts at the helm obsessed with sales instead of the face of our culture.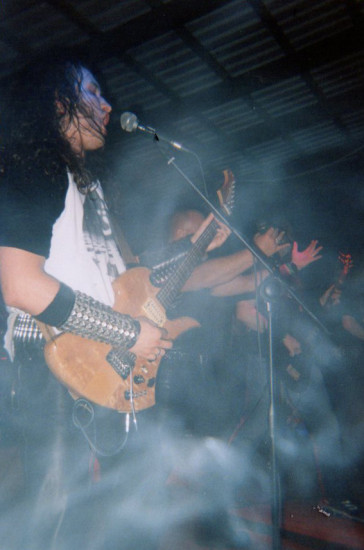 It is sad but true that money is often the ever-prevailing element. Have you any plans to return to the UK or is it beyond your financial means? Alas, I missed the Metal Inquisition in Bradford August 2000. The bill looked very promising. What are your memories of that day?
I was absent that day. TTD was just Dave on guitar as I left the tour early due to some nasty health problems. As for returning to the UK we don't have any immediate plans. We're thinking about touring Germany and Greece in 2003 after we get our third album out, which is tentatively titled "The Crest of the Martyrs". We'll see. It's definitely a possibility that we could return to Britain in the very near future.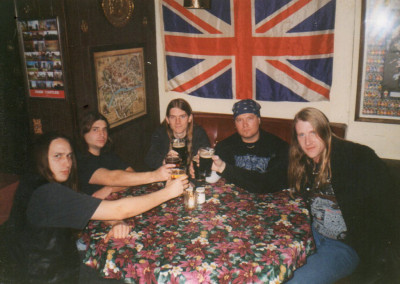 I wonder if we could petition a tour which involved Twisted Tower Dire playing a couple of dates in Ireland although it may depend upon the resources of their label, which is currently the Miskatonic Foundation. Are you satisfied with the effort and support the band has received? Will it also host your third album that I believe you hope to record and release by the end of the year?
Rich has been nothing but a great friend to us and we will always be indebted to the support the Walkers have given us. The same goes for Herman and Andrea of Metal Supremacy Records. These are true friends and good people that are extremely hard to come by in today's music scene. You cannot upgrade much from relationships such as these but TTD needs to try and find someone with more resources so that we can get to the next level. If we do not succeed in securing such a deal we would be no means disheartened by staying on Miskatonic Foundation. Rich does everything he possibly can for his bands. I'm more concerned with reciprocated work ethic than having a false security blanket.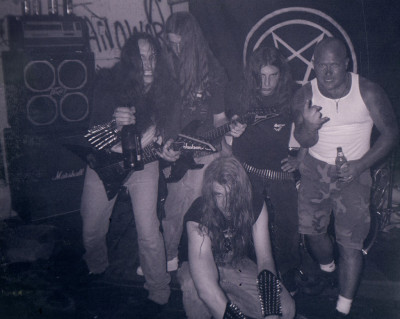 It seems like a tough target to meet but you know if it's within the realms of possibility. What will your future hold? What direction will the music take and can we expect more tantalising artwork?
We've known for some time now that it's not going to be so easy to out-do ourselves like it was on "Hydra". We've been preparing new material for well over six months now. Much of the next album has been planned out musically and visually. Of course we're going to try and do a stunning visual layout with lots of killer artwork. It's all being planned. No one will be disappointed. The plan is to have a production superior to "Hydra" and write songs that stand-alone from it too. We don't want to copy the same formula.
Honest, ambitious and the vision to succeed. Watch this space…
Danny Angus
August 2002