RAVENSIRE: "The Cycle Never Ends" LP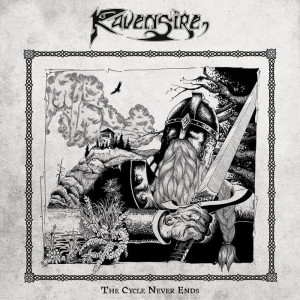 As the years roll by there are far too few new bands that genuinely impress. But when the Portuguese revellers crossed the sea for metallic merriment in Dublin three years ago it became clear that they had a crude charm. They were another one to be cherished. Their maturity, if you will, an asset because not only did they grow up listening to the classics back in the day, they have also persevered through the dark years when this form of steel was derided. In that way, Ravensire strike me as heirs to the Heavy Metal warrior class that were all so important during my late teens and early twenties: Slough Feg, Twisted Tower Dire, Malediction, Doomsword and Ironsword, bands whose heart lay in the past without lacking the courage to leave their own mark on tradition.
Marching forward, this new album undoubtedly builds on the solid foundations of its predecessor. Classic Heavy Metal with rough edges, epic and heroic, blades polished with blood and sweat alone. Rick's accent and gruff vocal delivery adding further character. The musical and lyrical structure retains that emphasis on storytelling. Riffs and choruses return in cycles to hammer home the songs while well placed searing lead breaks pepper proceedings. Historical, mythical and fantastical themes also remain the order of the day to sweep audiences further away from the banality of daily life. Opening duo, "Cromlech Revelations" and Crosshaven" are set in that mid-tempo melodic gallop that made their debut so thoroughly enjoyable. Drive. Drama. A call to arms. The rousing chant of the latter title an unexpected delight before the final fanfare. "Trapped in Dreams" is the only song credited to Ze rather than Nuno. It's an incredibly catchy affair with more woahs and yeahs than you can shake a stick at. Bound to be a blast live especially with its bursts of speed and that cracking extended solo foray. Actually from the very first listen, a gain in speed is apparent and it makes this record feel heavier because it's not only the guitars that surge but also the drum kit that takes a battering. "Solitary Vagrant" is by far the most frenzied on offer. A white knuckle stampede into battle. The lyrics speak to the adventurous loner in us all and again we believe Rick's sincerity. "Procession of the Dead" is somewhat reined back yet no less heavy. It's cutting riffs and a haunting prayer muttered in Latin provide contrast in mood before solos aim for the skies above. The "White Pillars" trilogy accounts for over a third of the album and closes this particular journey. Again, It's rousing Ravensire through and through. "Temple…" In particular. Carefully crafted, cutting and curling through the epic landscape, the flow slowing and surging as needed to overcome. Spirit sparkling on the surface. Strength emanating from below. Somehow, it's understated. Honest. Asking for nothing in return. That humility easily overlooked. But the more time spent with Ravensire, the deeper it seeps into the soul. Listen closely. Ultimately, it will seduce.