ORTHODOXY: "Ater Ignis" LP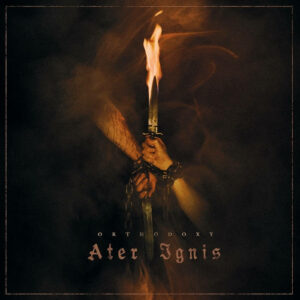 Three years after the potent "Novus Lux Dominus" LP, the Spanish quartet returns with fiery intent. A spiritual path laid bare. The medium, Cavernous Death Metal.
"Enter the Netherworld" builds and descends slowly into a subterranean crypt. The atmosphere dark and hallowed. A lead guitar, burning black, flickers like a serpent's tongue. The recurring motif circling it, thick and menacing. "Into Primigenian Darkness" erupts after swearing allegiance to the Sinister Path. That unwavering dedication mirrored in the musical delivery. One that accelerates, at times, with flashes of revelatory Black Flame, only to resume the steady journey downward. "Victory Beyond Death" showcases a more muscular dimension, where blasting passages are broken by a slowly strangled riff, the crawling march the very roots of Death's tree, stretching, spreading further underground, during long, long years of solitary reflection. "Banished from My Glance" cranks up the battery further. Frenzied moments of enlightened bliss punctuate mundane reality. The other side palpable, within touching distance, if the eager hand scratches, searching below the soil, for those same hidden and meaningful roots.
Flipping over, there is a subtle shift in the ceremonial flavour. Perhaps the more gruelling labour is complete or at the very least, a crucial mystical milestone has been reached. Either way the ritualistic visitation by this "Masked Beast" is enthralling. Languidly, it appears. Hypnotically, it hovers. There is a short, sharp display of absolute strength. Then the vision dissipates leaving a deep impression on the mind's eye. The remaining two movements feel broadly as vast as they are long. "Where Shadows Move Unseen" adopts alternating swifter and slower strides before climaxing with a customarily expansive solo, the momentum of which hurtles into the grandiose title track. This "Covenant of Death" marks the triumphant end of said adept's journey. The atmosphere accomplished. Celebratory. What better way to mark that closing circle than with crashing waves of fevered determination towards transmutation. And beyond.
Taking stock of the respective album themes, if "The Lord of New Light" laid their gnarly foundations, "After Fire" deconstructed those inner workings from a linear perspective yet equally as a divine cycle of death and rebirth that could be repeated indefinitely. Brimming with that Faustian Pride, none will be unmoved by defiant Orthodoxy. Where one so visionary moves next with their blackened torch is an intriguing proposition indeed.