CHRISTIE SMIRL: "The Dashamahavidya Gita" Grimoire w/ Spoken Word Soundtrack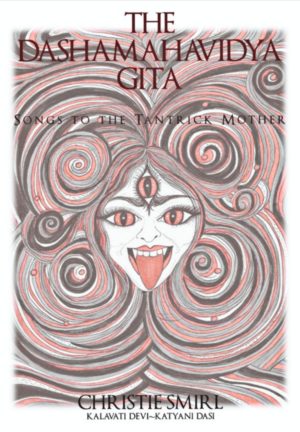 Songs to the Tantrick Mother is an exposition dedicated to Kali Maa, The Great Black Mother. The tome contains sacred prose in the form of gitas, art, praxis and ritual dedicated to the Dashamahavidyas, the ten tantrick Wisdom Goddesses of Kali Maa.Readers are invited to practice lectio devina by reading each gita and invokation slowly then out loud to manifest Kali Maa through spoken word. The Mahavidyas of Kali Maa unleash latent accumulated power bound to the shadow self so that it can be converted and directed towards achieving inner peace and one's true Will. This process requires sacrifice; sacrifice of the limiting aspect of the ego; sacrifice of inner demons as well as sacrifice of one's gifts, talents, bhakti, time and energy back to the Great Mother.
https://zazensoundspublishings.bandcamp.com/album/zzs-091-the-dashamahavidya-gita-book-grimoire-by-christie-smirl-sold-out-digital-download-available
To order any item from our catalogue, please email pariahchild@yahoo.co.uk for current pricing, shipping, and bundle discounts.