Interview: Abysmal Grief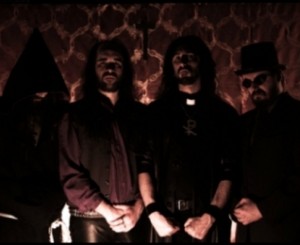 What does the name conjure in your mind? Death? Pain? Suffering? Melancholy? Well, that would be a beginning. But it goes deeper than that, at least six feet underground, for the founding principle of the band was to explore the relationship of inner spiritism with the world beyond. Their tools have been the thorough study of occult texts and divination of the deceased. This brew of funeral mysticism, necromancy, horror cinematography and literature are, in turn, reflected in the lyrics and the music becomes the soundtrack to that story. Their guitarist, sometime drummer and lyricist, Regen Graves, will begin the initiation…
Greetings Regen, the time has come. Are you prepared?
Hi Danny, I'm glad to answer your questions.
Please begin by introducing the trio at the heart of your craft? How, where and when did you meet? What initially brought you, and has kept you, together?
Abysmal Grief was born as an esoteric band in 1996. At that time I was deeply into Horror and Dark Metal, and I wanted to create a project in which I could express my passion towards Occultism and everything concerning Death and graveyards, the most wonderful places in this world. I changed many musicians but finally the line-up was stabilised with the arrival of Lord Alastair, on bass, and Labes C. Necrothytus, on keyboards, and soon after, lead vocals, two guys with the same passion for the Dark sounds and Death. Since then, many musicians joined and left Abysmal Grief for different motivations, but we continue walking together on our path towards the End.
Abysmal Grief is a distinctive and fitting name. What was its source?
I simply wanted a name that could express the main subject of our style, something that could remind you of the main feelings about Death and Sorrow. I don't remember how it came out, surely turning over and over again the pages of my English dictionary…
Not that many moons ago, the band released the "Mors Eleison" MLP on I Hate Records. How was that partnership forged?
At that time, I had these three or four songs that I wanted to record in the same release, and as Horror Records was too busy I decided to contact Ola to ask if he would be interested in this kind of material. They were enthusiastic about it, and suggested the 12" format, so we entered our studio and recorded the "Mors Eleison" MLP in three weeks. It remains a very important work for us, like a manifesto of our musical concept.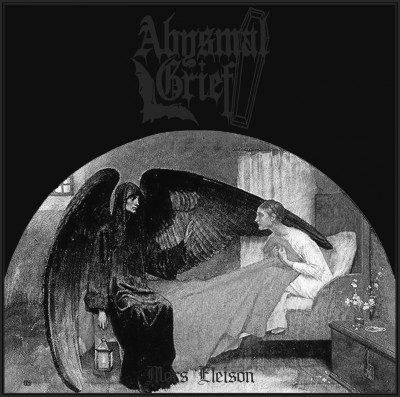 Given that the label rarely releases vinyl and the band had, to that point in time, been primarily concentrating on demos and singles, what led you to the superb, yet dying, format of the mini-album?
In the beginning. our idea was to record simply a sort of maxi-single, but when the songs were ready to be recorded, I found out that it had to be something more important, so, according to I Hate, it became a MLP, not a CD simply because we hate that format!
The gatefold is visually striking. Please explain why you opted for "The Death and the Maiden" painting by Marianne Stokes to adorn the sleeve.
I found this painting quite casually and liked it soon because in some way it reminds me of the image of the Annunciation, even if in this case, the Angel is Death, giving it a grim meaning, only better…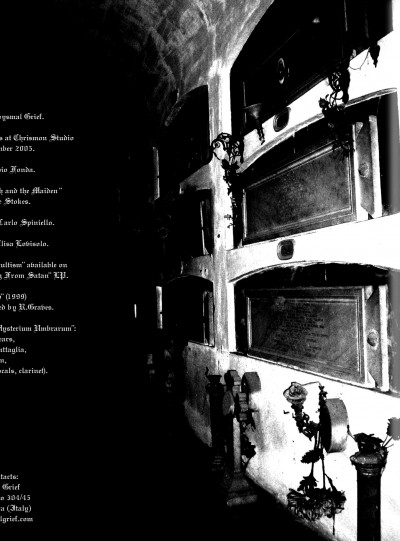 What does the title mean? To what extent does it unify the artwork and the music within?
The meaning of "Mors Eleison" is something like "Death have mercy" and expresses the fear of most people facing Death, just like the figure of the maiden on the front cover.
Your rendition of "Occultism" by Paul Chain is more than commendable and it seems an appropriate choice for your ends. But were any others, such as, say, "Mortuary Hearse" or "In The Darkness" considered? Perhaps that particular song and the legendary composer behind it carry a special significance?
I soon chose "Occultism" because it comes from my favourite Paul Chain vinyl, "Detaching From Satan" MLP, which I consider an absolute masterpiece of Esoteric and Spiritualist music. I always had the idea to play a cover of Paul Chain but I waited to be really ready and with the appropriate magical preparation to write the lyrics. The realization of the "Mors Eleison" MLP was the right moment and the perfect concept for it.
Was it an arduous task to replace the phonetic lyrics with your own words to fit the metre? Out of interest, did Labes C. Necrothylus have a go at imitating those phonetics before you lifted the quill to begin that process?
I had no problems about those lyrics. It came quite naturally, Both Labes and I have listened to this song for many years, and we really made it ours.
Has Paul Chain heard this bold interpretation of his work? If not, how do you think he would react?
I don't think he has heard it, and I imagine he has no interest at the moment in having to do with anything of his past. He probably wouldn't't like it…
Was "The Shroud" really recorded as early as 1999? Was it presented unaltered for this MLP and if so, why has it only surfaced now? Do you have much in the way of older material like this that has never been heard or seen the light of day?
"The Shroud" was recorded totally improvised by me in 1999 and I never listened it again for years. Then I found it in a old cassette and I decided to clean it up and put it in one of our releases that could fit in some way with the feeling of ceremonial sorrow that I had when I recorded it, and "Mors Eleison" was the right occasion. I have a lot of other synth/keyboard songs that I have never used, but maybe someday people will listen to it…
"Mysterium Umbrarum" is an intriguing and eerie composition with howling winds and the devilish tune of the clarinet mingling in the background. Would you reveal the general flavour of the lyrics that accompany them for those of us who do not have a grasp of the language? Is some form of rite being undertaken?
This song represents a sort of initiation in which is recited a Spiritist creed based upon the Doctrine of Allan Kardec. I composed this text referring to my studies and it expresses the sum of the Spiritist Theory: In the first part, the Medium introduces himself as the main officiator, while in the second part the adherents expound the creed like a kind of oath.
How did these guest musicians become involved in this particular song? Some may already know Tony Tears from your earlier split single collaboration. But probably not the others…
Tony Tears is a great musician and an old friend of mine. We share the same deep interest in the Occult arts. The other members are musicians or writers from our city who follow and support our message. We are also good friends, and when I asked them to take part in this recording, they accepted enthusiastically and very seriously.
The label pressed 500 copies of the vinyl and in a matter of months, they disappeared from the source. While the band and some mailorders may still have a few copies to spare were you taken aback by the rate at which they were greedily consumed by the underground? Has the feedback you have received matched this level of enthusiasm?
I really didn't expect this MLP would have met with such success. We were very proud of the final sound and obviously also of the gatefold packaging by the label. But none of us had foreseen that people could react in this way. It represents a satisfying result and proves that our message has been understood.
Shortly after the MLP essentially disappeared from regular circulation your debut self-titled album was released by Black Widow Records. But what our readers may find shocking is that it was recorded the best part of two years earlier! That must have been frustrating. It may even have stopped a weaker band dead in its tracks. What lay behind the delay? Do you think this has hindered the development of Abysmal Grief at all?
You are correct. This delay has been deeply frustrating for us. The album has been conceived, recorded and mixed under very inauspicious influences and we suffered the unprofessional attitude of a lot of people and some kind of ostracism during the entire production process. But I don't want to go into details, I just can tell you that next album will be entirely produced and managed under my control, including the release date and every aspect of it.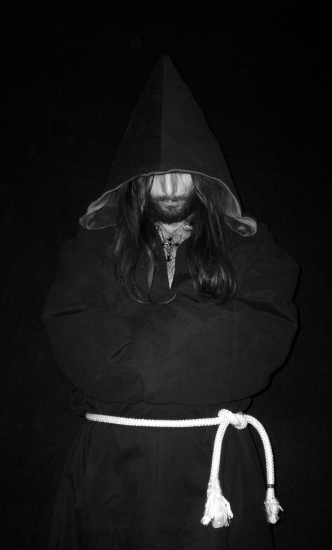 Well, crucially, the album did eventually surface. Please elaborate on the shadowy painting by Laura Campanella, which seems to represent the opening lines of the album. But to whom do the five sets of hands belong and why is only one face visible?
The only visible face is that of the medium, while the other people are shaded in the darkness meaning that living people remain in the obscurity about the true knowledge, which is reserved only for those few who can obtain the answers from the World Beyond. I found this image from an old theatrical show and decided to have it painted for our cover because it represents perfectly the message of the album. She made a great interpretation.
To what extent would you say that this ceremonial flavour, audibly and visually, is indicative of your direction or was it specific to that era and the ideas you were then exploring?
The songs of the album are from different periods and represent, in some way, a sort of esoteric path in which I developed my studies, so it must be considered as a sum of my knowledge so far. The whole work, including music, symbols and packaging have been conceived as a unique concept, which is indicative of our musical and philosophical style.
The short interludes, "Dirges" and "Divination" give the record a continuous feel and fleeting reprieves from the primary songs. But do you think it would suffer without them?
I decided to use these interludes to introduce a more atmospheric tone to the album and I think they fit perfectly with the long songs. They have a musical value and function to give the listener a little break between the long compositions.
What is you favourite composition included herein? Why?
I have no favourite compositions. Every piece represents something personal. I know this is a common answer but it is the true. I couldn't choose one song over the others.
"Creatures From The Grave" seems to stand at the heart of the album. Was that deliberate or might it be explained by its familiarity from the earlier split single or even its consistently faster pace?
It was a casual decision. The order of the songs, apart from the first, is based on their length in relation to the sides of the vinyl format. I always use this parameter for our releases, as we never consider the existence of the CD format. This is the reason why we will record only 45-48 minutes albums and their structure will always be in relation to the length of the vinyl sides.
Mario "The Black" Di Donato is another cult figure within the Italian underground. How did he become involved with the band and what did he contribute to "The Necromass"?
In the past, we played two concerts with The Black and we deeply respect him. Moreover, we are both with Black Widow Records so it was very easy to contact him and ask for his collaboration. I am proud of his contribution. He is a great artist.
In this particular song, you have branded the funeral rite as the necromass, which you view as some form of rebirth. What do you mean by this? What do you consider to be the purpose of this spiritual existence, if indeed there is one, beyond answering the call of the living?
I simply mean that stupid mankind thinks to rule the world, and all the stupid religions claim to give us sure answers, but we are nothing and our existence here is limited and incomplete. We can only try to get answers from the ones who lived before us and know where we are going. But in my opinion, those who lived are not that interested to have contact with us, and most times their messages are completely misunderstood. This is the reason why we consider Death the only passage to a higher level and the funeral is the last rite that can set us free to evolve…
"In static rest eternal life…" suggests that existence is more than movement. If there is more to life and death than physical form, what then defines being?
This is a good question, and probably we need more than one interview to answer it without falling into ridicule or boring the readers. I think that our physical existence is only a passage in the long way of our soul, and the Death of our body is a liberation. We should define this as a starting point, then everyone can reflect and work out his own opinion about his path, far from stupid religious dogmas.
Do you feel the eyes of the dead upon you wherever you are, wherever you go and whatever you do? Do those stares belong to anyone you had met in this life before they passed to the other side? If anything, what do they ask?
I feel the presence of dead people many times, but it doesn't mean that I have supernatural powers! In your opinion, what makes most people's flesh crawl if they find themselves inside a graveyard at night? The fear of some "zombie", or something similar in typical horror movie style? I don't think so. We keep Death inside us, as our birth is simply the result of a previous End, and we are made of it, so it is present in our subconscious for all our corporal existence. I like walking through the tombstones and observing the photos of the deceased just because they really communicate with us, even if we are usually too afraid and blind to understand them.
You seem drawn to the colour violet. Is its relationship with death and funerals more significant, more metaphorical, than the picture previously painted by Death SS in their song "Black and Violet"?
In Italy, people fear to put black and violet together, as they are considered symbols of Misfortune. I am attracted by them, as I think every sort of bad influence on my life can raise my spirit, so I surround myself with every kind of symbol and object that could take my existence closer to the End.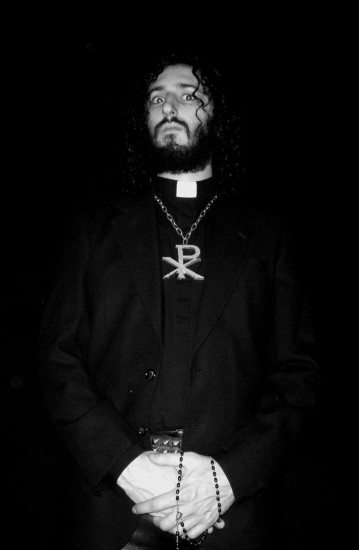 On the inner sleeve, it is interesting that you have adopted the symbol of a snake devouring its own tail. Is there ever a definitive end or only new beginnings and endless cycles?
It is an Ouroboros and it represents the continuous cycle of Life and Death. It contains the XIII, which is the number of the Tarot for Death. Together they represent eternal change and the infinite Ends that our soul has to face. There is not only one Death for us, and this is simply great, don't you think?
Speaking of cycles, Horror Records is about to exhume your "Hearse" 7"single as a limited edition picture disc. I hope the deluxe gatefold sleeve will be retained! Will there be any other changes apart from the shift in format? Does demand remain or is it more important to keep your releases in circulation and gather new followers as your message spreads?
Well, I think that the picture disc won't have any gatefold cover! Apart from that, there will be nothing new about the songs, obviously. Horror Records decided to release this version as it became sold out in a very short time, and lot of people continue to ask for it. I think it is a good idea, as we have been always very proud of that release.
Two other new 7" singles have already been prepared for release by Horror Records in the coming months, the first of which is a pairing with Denial of God. What unites and separates both bands? In this instance, have you agreed to explore a common theme or is contrast paramount?
The main difference between Abysmal Grief and Denial of God is that we play essentially Doom/Dark, while they are a Black Metal band. Apart from this, we share the same passion in Occultism, Necrophilia and Horror, so I thought it would be great to collaborate with them, and maybe someday we will manage to organize some gigs together around Europe. It would be great. We didn't agree about any particular concept, so I am just waiting to hear their grim song…
Your contribution to the split single is a fresh interpretation of "Brides Of The Goat", which originally appeared on your "Funereal" Demo Cassette in 1998. Why have you opted to return to this specific song now and how will this version vary?
"Brides of the Goat" is the only song from that period which we continue playing on stage, so I thought it would be great to record it again with Labes on vocals with a more doomish style, as over the years, we slightly changed the final part of the song during live exhibitions. The final result is really grim and heavy, I hope our old fans will like it.
Do you think that this two-pronged attack provides a valuable opportunity to reach more listeners through the other band? Is that even relevant to you as an artist? Perhaps brotherhood underlies it?
The only reason why Azter and I decided to release this split is the deep admiration we have respectively. We really don't give a fuck about reaching more fans. This is just a sign of respect and brotherhood between Abysmal Grief and Denial of God in the name of Horror and Death.
The second single will be called "The Samhain Feast" and released at its corresponding calendar date. What can be anticipated from the title track, "Grimorium Verum" on the reverse and the artwork that will house them?
I really don't know yet if this release will be confirmed or not. Everything depends on the future availability of Horror Records. The songs are almost ready, we are mixing them now, but by the moment everything is still wrapped in a sort of violet mist…
If that were not already enough, readers will delight in the knowledge that the new album has essentially been fully written and recording sessions are imminent. You have described its flavour as less ceremonial, more necrophilic and harsh, yet remaining dark and slow! Does that still allow space for the haunting organs? Would you be willing to unveil a little of any specific songs and their accompanying lyrics?
The organs and the keyboards are a fundamental element of the music of Abysmal Grief! This album will be in the same vein as all our compositions, and musically it is in the exact middle between "Mors Eleison" and "Abysmal Grief". About the lyrics, they are a little more personal and descriptive than the first album, but there are no conceptual differences. Obviously I don't want to pre-announce anything more about it…
Once again, Black Widow will help realise your vision. How will the album be presented and when do you estimate it hitting the shelves?
There are going to be no differences of production for this new release. It will be released on LP and digi-pack CD formats again, and I would like it to be available in 2009, which is a very special year for us, being our 13th together. This is the reason why I want the master to be ready before the end of the year: I don't want to repeat the same delays of the previous album…
Alexander Baal joined your ranks approximately five or six months ago to take up the position behind the drum kit. How is he settling in as an individual as well as a musician
He is an old friend of mine and when I asked him to help us he accepted and soon wanted to become an official member. He is very serious and professional so we are satisfied with his efforts so far and I hope we will be ready to return on stage next Autumn.
If he were to stay for the longer haul, it would surely be advantageous for Abysmal Grief. Not only would it free you up during rehearsals and recording to focus on your craftsmanship, the band can also begin thinking about a return to the stage. Would that be a priority after the completion of the album?
Sincerely, we have never suffered from the deficiency of a drummer, as we never considered concerts as a fundamental aspect of our music. In the last years, I have changed a little my opinion, and this is the reason why in, the future, probably you will see a fourth member in our line up, obviously, only if he is really into the Occult and deserves to play with us…
How would you describe the ideal live representation of the band?
A concert in which we could really evoke something from Beyond. But it will be impossible, I think, in that circumstances we are often involved by the crowd and it is not imaginable to concentrate deeply. But if we can manage to make the people feel our same feelings, it is anyway a great goal for us.
In the past few years, you have played concerts with some of your Italian brethren who also explore dark and brooding sounds, such as The Black, Misantropus and L' Impero Delle Ombre. But what has been your most memorable performance and why?
The best concert we played was probably two years ago in Germany where people were really mad and crazy for our show, and I must admit we played very well. Azter has the recording of that show. Perhaps, in the future, it will be available in some way… Concert organization outside Italy are more professional and serious than they are here, and it allows the musicians to perform better. This is the main reason why we will prefer going around Europe in the future!
Italy has a rich and dark musical tradition spanning from the late '60s to the present day. What is its impetus and why is it so unique?
I think Italy has suffered the influence of the infamous church more than any other country in the world, and it influenced deeply any kind of art. If we speak about music, I don't consider so strange that many of the great occult bands are from Italy. We usually have a deep sensitivity about mysticism and the fear of Death. It is very sad, but this is the truth…
It might be viewed as quite insular or impenetrable as some bands have opted for their native tongue, Latin or even created a new language through phonetics. That, in my view, is a strength, and diversity should be encouraged. But why does there seem to be less media coverage as well as live opportunities for these great bands beyond your borders?
Well, if you think that the old great bands have notoriety here in Italy, you are completely wrong! Most Italian people never listened to Death SS, Paul Chain or Jacula! The Italian Dark Sound is much more famous outside Italy than inside, and this is one of the big contradictions here.
Please elaborate on the sense of community and collaboration between likeminded musicians. For example, while we have already touched upon those who have leant a hand to Abysmal Grief, you, personally, have been involved with Malombra and Il Segno Del Comando. Do you think such cross pollination is healthy and important?
I think that it is supposed to be collaboration only among bands really similar, musically or conceptually. I would never collaborate with a Death Metal, NSBM or Hardcore band as I don't like those kinds of music or their message. On the contrary it was an honour for me to collaborate with Mercy or recording and mixing the song of Tony Tears for our split single in 2004. Musically, I am influenced only by those few bands that really share the same esoteric concept of Abysmal Grief, and obviously not only from Italy.
If you had a free hand, would you consider doing a full-blown project outside of Abysmal Grief? If so, what would be its focus and who would you like to be involved?
As I told you before, I have a good number of ritualistic synth/church organ songs that are buried among my tapes, and maybe some day I will give them new life… For the moment though, my only project is Abysmal Grief and I really couldn't tell more than what I am expressing now with my band.
You may have already partially answered this question, but for which musician, Italian or otherwise, do you have the most respect? What is your favourite recording? Why?
The greatest artist and esoteric musician of all the times was Paul Chain. As everybody knows, he is artistically dead now, but his place has been taken by Mortuary Drape, which plays quite a different kind of music but keep the same esoteric aura. My favourite recording from Paul Chain is "Detaching From Satan" although not forgetting "The Story of Death SS" which is a great album, probably my absolute favourite, while from Mortuary Drape, I think "All the Witches Dance" is their best one. I have a deep respect for them.
Music is not your only passion. Perhaps you would describe some of your favourite horror films and directors, literature and authors? What makes them special, what impact have they had on you and how does that eerie atmosphere seep into your own creations?
Apart from music, my second passion is going around and taking photos of ancient graveyards or ossuaries. I like grim pictures, especially in black and white, and this is the reason why I am a big fan of all the old horror movies of the '50s or '60s, and generally of all those minor directors as Rollin, De Ossorio, Joe D'Amato and many others… Our music has always been influenced by some of those movies, and also from authors as Poe, Stoker, Bierce and so on.
You take your study of the occult seriously. What led you to this path, which aspects have particularly captured you interest and how have you explored them?
When I was younger, my attitude was much more superficial and dangerous. I was attracted by every kind of Magical art, but soon I decided to concentrate on the Dead and relations with them. My intent was just to go deeper into the knowledge of myself and some strange particulars of our existence, and obviously to explore the Death and its deep influence on our life.
Throughout your reading, which occult texts have you found most illuminating and least relevant? Any recommendations?
I read several books about this subject, especially from Kardec, who theorized very well the Spiritist doctrine. Sometimes he is a little too much "religious", but I consider his "The Medium's Book" a fundamental text to go deeper into the World of the Dead.
How do you interpret the following?
XIII is the Esoteric Number, the End and the Beginning.
Chains of Death is one of the first Death SS songs I ever heard, and the final act of all of our shows…
Cremation is only a way to avoid the Arrival of the Worm…
Purgatory never existed.
Paradise is an illusion for fools and ignorant people.
If you were a character rooted in the horror tradition, which figure would best represent you?
Probably Death in Bergman's "The Seventh Seal". I love that character and all the philosophy behind that film.
If you could ask me a question, Regen, what would it be?
Have you ever opened a coffin, Danny?
Once or twice…
We have reached the End. For now. Thank you Regen, for the comprehensive insights. Clearly there is much on the horizon and Pariah Child will continue to champion your cause. The final words are yours…
I thank you for this very long and close interview, and for your interest and respect towards our music and philosophy. In Death…
Danny Angus
June 2008