Interview: Sin Starlett
Sometimes, playing it straight with strength and conviction is all that a band needs to do to successfully win you over. A few years back at Keep It True, Emanes Metal recommended their "Throat Attack" LP for its catchy NWOBHM sensibilities. True enough, it hit the spot. But their new record hit the spot even harder. Easily one of the highlights from 2016, it should go down very well with Saxon and Judas Priest devotees. I'm just not convinced that many have heard the band or their story. This is it…
Welcome Reno, how the hell are you?
Hi Danny! I'm very fine! Appreciate your interest in our band.
The "Digital Overload" LP has been cranked up high here since it was released a few months back! It's a feel good, full throttle, Heavy Metal record. Did you capture the vibe you sought when conceiving it?
Yes, we are incredibly happy with this album. Probably the first time that the production gives the songs the penetrating power they deserve. It's definitely a no- bullshit Heavy Metal album, straight, catchy and heavy… sounding exactly as we wanted it!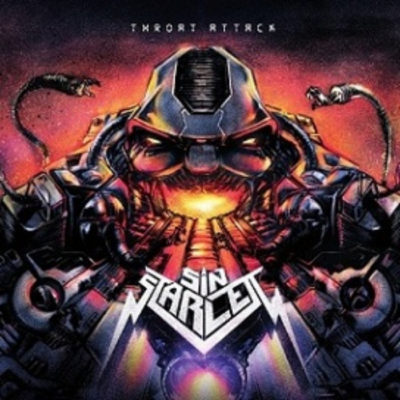 My introduction to the band came via its predecessor, the "Throat Attack" LP, and as much as I enjoyed its honesty, the new album feels more compact and infectious. Did you approach either the composing or recording sessions differently?
For the last album, the "Throat Attack" LP, the approach was more spontaneous. Many songs were not even finished when we started the recording sessions. But this time, we paid a lot more attention to details such as vocal arrangements and guitar solos. Especially the vocal lines and refrains are much more memorable compared to the last output. Although the new songs are more refined on this one, we tried to remove any unnecessary ballast from the songs before we started recording them, leaving only the essence of steel…
So perhaps it's not only my imagination! Would you agree that the record is stronger?
We feel the same! The new record is definitely stronger. The songs are better and more versatile.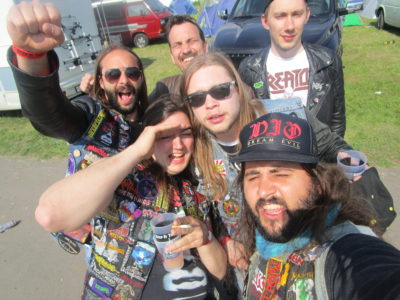 Scratching below the surface, the lyrical themes are often darker than the upbeat mood. Religion, technology and war. The need to break free. Universal social issues. Is that the current climate? The world in a sorry state?
It's great to see that you took a closer look at the lyrics. The need to break free is one of the cornerstones and a central statement of Heavy Metal, the fuel that keeps us going.
Some of the lyrics are pretty simple, dealing with the daily issues we are facing in this modern world. Others are telling stories of a not so distant, post-apocalyptic world, where technology is the master and people are the slaves. The digitalization of our daily life and the technologisation of complete economic sectors is a thing that really scares me. Our system is attackable and fragile. One day we will pay the price for it…
Beginning with the b-side, "Savage Nightshifts" is an odd title. The song itself could certainly be about any religious fanatic. But is the focus a suicide bomber?
Yes, you are right, the lyrics are written from the perspective of a suicide bomber. It's a topical subject, and we always wanted to write a song about it. The original title for the song was "Arabian Nightshift" but we modified it to make it sound more universal and less political. Not to mention that the original title would probably not be helpful while planning our upcoming Arabian tour… Ha! Ha! No, just joking…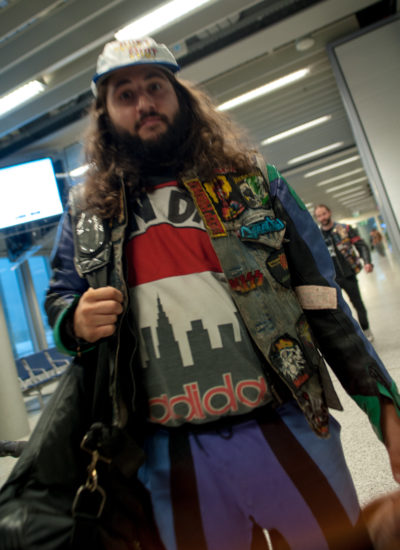 "Righteous Saviours" takes an alternative angle to criticising conflict. The invading force may appear to be defending foreign liberties. But are the motives genuine? Was there any particular war in mind?
That's an interesting interpretation. To be honest, the words to this song just came into my mind when I heard the riffs. I wasn't the intention to tell a concrete story, but the stompy rhythm of the song just required some kind of martial-military lyrics. So it's basically just about soldiers going to war in a foreign country… Not meant to be judgmental or anything like that!
Again, "Sideway Warriors" is such an unusual phrase I'm left scratching my head! What do you mean? How does it link to being the outlaw or a drugs-tested soldier in the song?
Ha! Ha! Yeah, it's indeed an unusual phrase… We like these contrasting song titles a lot. Maybe I was inspired by Riot's "Swords & Tequila!" I'm really into these kinds of song titles that combine the classic cheesy barbarian Metal vocabulary with ordinary things. It's like bringing Swords & Sorcery lyrics back to the street. That's where Metal belongs anyway… Ha! Ha!
But "Sideway Warriors" is basically about drug-addicted, homeless people who have nothing to lose. The violent revolution of the junkie-outlaws…
Perhaps I'm reading in too much. But does "The Last Straw" describe living with the horrors of war when a soldier returns to civilian life?
No, this song is dedicated to our first drummer Dany "King" Schilliger, who commited suicide in 2007. He's still the invisible, sixth member of the band; and we wanted to write some kind of Power Ballad ever since he passed. The lyrics are trying to describe his thoughts just before he decided to take this path. It was some kind of psychological purification to write this song.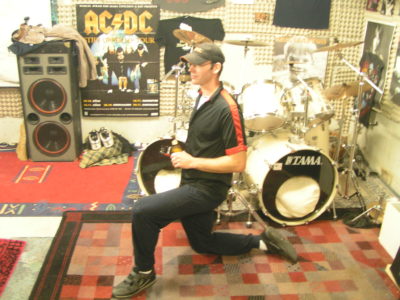 Okay, flipping back, please would you elaborate on the double whammy of "Electric Expander" and the title track? They appeared together as the 7″ single teaser as well as holding prime position opening and closing the a-side…
These were the first two songs that we finished for this album and I still think these are the strongest tracks on it. That's why we decided to release them as an appetizer before the album came out, as I think these compositions bundle the strengths of Sin Starlett in a perfect way!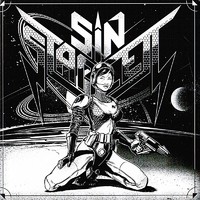 They tap into the technological themes and computerised presentation of the record. For me though, "Electric Expander" seems more indebted to Priest's classic cosmos. Was that deliberate?
Yes, the lyrics of both tracks handle with technological themes…"Digital Overload" in a more personal, profane way while "Electrical Expander" draws a picture of a technological invader that enslaves humanity. Some kind of a "Judge Dredd" sequel! Musically and lyrically, "Electric Expander" is totally inspired by Priest, no reason to deny that. They perfectionized this kind of song writing long before we started to make music, but we are trying to carry on the flame and add our personal stamp to it.
"Digital Overload" carries that old sci-fi fear that machines will enslave the human race. It's frightening how we have become glued to computers and mobile phones in the past 15 years. An unhealthy compulsion. But can we still put them to good use and think for ourselves?
It's very frightening, and I'm really concerned about the direction our society is going. I really hope that the newer generation has competence to deal with these things in the future. But I'm afraid they can't. The whole technological process has moved so quickly in the past ten years. I think things are going too fast for us to deal with it. But I wouldn't say that everything is bad about this digital evolution. If you use computers and Smartphones as an instrument of communication, it can make things easier. Especially for an underground scene such as Heavy Metal. It can open up new possibilities, for example, to get in touch with Metalheads all over the world.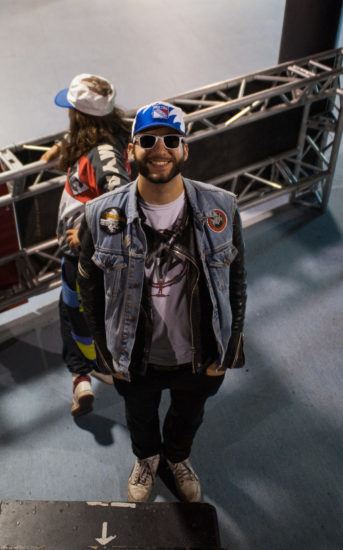 "Force and Thunder" challenges conformity. How do you apply that as a band?
The song is indeed about breaking the chains of conformity, to find complete expression and not to care about expectations from others. As a band, it's definitely not our main goal to strive against the stream and maybe this makes us some kind of rebels within the Metal scene? We don't have any Satanic image and we are not an over the top retro band that tries to sound exactly like Maiden anno 1982… We are just trying to write perfect Heavy Metal songs based on passion and dedication to this music. This may sound unspectacular, but in the end this is what sets us apart from many current traditional Heavy Metal bands.
Have to commend your honesty! Now lyrically speaking, "Tear Down the Halls" stands out as the simplest upfront rocker! An ode to Saxon and Priest? Is it escapist or giving expression to how you live or a little of both?
Ha! Ha! Yes! Simple but effective. We tried to capture the feeling before we hit the stage. The song has some kind of feel good vibe in it that brings you into a rocking mood. Lyrics for such a song have to be a simple and memorable.
If we talk about the cover there's no escaping Priest again! How did you meet the artist and had you asked Jaron to paint with the "Ram it Down" meets "Painkiller" hues when explaining the brief?
Jaron Gyger was already responsible for the artwork of our last long-player "Throat Attack" and we basically told him about the main theme of the record.
The antiquated computer design throughout the sleeve makes sense. But where does the robotic hand fit in the concept?
We already had the idea that the claw of "The Punisher" (which also appeared on the last two album covers) should play an important role. Jaron came up with that idea that he could form a whole mountain range out of electrical and digital trash then let the claw appear as a pneumatic gripper! It makes for a post-apocalyptic scenario and the robotic arm is digging deep into the relics of a digital world…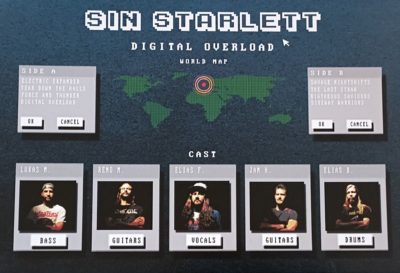 Well, I must congratulate you! It's a thoroughly enjoyable record. It screams classic without being a soulless copy like so much revivalist crap nowadays. Age sometimes has its benefits, eh?
Ha! Ha! Thank you! We really think it's a great record and hope it doesn't get overlooked between the numerous new releases these days. As for age, yes, it has some benefits, but getting up on Sunday morning after a night of headbanging and partying is definitely not one of them…
Don't we all know it?! How have you launched and celebrated "Digital Overload" on stage?
We played a release show at our hometown Lucerne with our friends Ruler from Italy and High Heeler from Austria. Check them both out if you are into classic Heavy Metal!
It was an outstanding evening! We played all songs from the new album & some old evergreens we haven't played for a long time. I think it was our longest show ever lasting about 2 hours! Our producer, Many Maurer, (ex-Killer, ex-Krokus) joined us on stage and played one of the new songs with us, which was for sure a memorable moment.
Any tours in the works or new places you would like to reach with your music? Somehow I imagine that the energy could be all the more infectious in the flesh!
A small European tour would be a nice thing for sure, but it's already quite a difficult thing to coordinate the gigs we have on the weekends. All of us have regular full-time jobs and some of us have families, so at the moment, we're focusing on single gigs in the countries nearby and maybe a few gigs in a row within Switzerland. But we've already played in Greece (Up The Hammers), Italy (Play it Loud) and Spain (Pounding Metal Fest). We're always open to such adventures and we hope that this kind of intercultural-exchange will intensify in the future!
Is it safe to say that Christoph Widmer has settled in as your new bassist?
This is correct! Our old bass player, Lukas "Grounder" Marti, had to leave due to job- related circumstances. We've already been practicing several times with Christoph "Stopf" Widmer so he's now officially part of the gang. He's one hell of a bass player and we are all excited to hit the stage soon with our new comrade in Metal.
So what are the band's priorities going forward? You've already enjoyed reasonable longevity albeit with a low profile so I wonder if that's enough…
Playing live, convincing people of our qualities and spreading the Heavy Metal madness!!! That's basically it. We buried the dream of being rich and famous the moment we decided to play classic Heavy Metal. Ha! Ha! Of course, it would be great to bring the band to a higher level, to receive more support from the scene and being booked for the important festivals. But in the end we are doing this because of the passion and the thrill for the music itself. The existence of this band is not dependent of any success. As long as we feel the inner fire burning, we will keep on writing new songs.
Respect! How do you view our beloved Hard Rock and Heavy Metal in 2016? Many of the original bands and musicians are literally dying out. Music has become fragmented into infinite genres. The whole industry has become decentralised. Perhaps it matters not and bands should build gradually from the grass roots with a diy attitude if they deserve to be seen or heard…
It's a shame that good music is almost not supported these days. It's almost impossible to pay your bills just by playing in a (Metal) band. Many talented bands split up because they are facing the problem of being on tour all year and not being able to cover their living costs in the end. That's sad. Good music should be heard, and especially in these times of media overkill, labels should make sure that good bands are heard. But of course, Heavy Metal is made for a niche audience and the times have changed. So let's be just happy with the current situation that the (underground) Heavy Metal scene is active and vital.
Final question. Some have expressed confusion or disdain at your name. Personally, I like it! But why Sin Starlett? And why should they care or give the band a shot?
It's the question that must be asked in every damn interview! Ha! Ha! We were looking for a name that separates us from the nun-slaying, witch- killing competitors in the Metal scene. A name made out of two terms that makes no immediate sense, but is memorable and unique. Just in the tradition of Thin Lizzy, Def Leppard or Van Halen… Well, they make sense actually compared to our name! Of course the name also refers to our main lyrical topics in our younger days, such as damnation in hell, sin itself and judgement day. Looking back, choosing another name would made it probably easier for us to gain more listeners so maybe we should move to a small Swedish town, change our name to "MERCILESS STEEL" and have a new start?
Never! It has been a pleasure, Reno! Hope to see you on stage, preferably in Ireland, one of these days…
Danny, thank you very much for the interview! We would love to come to Ireland one day! Spread the Heavy Metal Decadence all across the globe, stay löud & keep the Hard 'n' Heavy Cult alive!! If you want SIN STARLETT to tear down the walls at your hometown, drop us a message on sinstarlett@gmx.net and we'll get back to you!
Danny Angus (July 2016)
In the seven long years since "Digital Overlord" was released, the band has released another 7″ single and the crushing "Solid Source of Steel" LP. Show them support and buy direct! https://sinstarletthardandheavy.bandcamp.com/album/solid-source-of-steel