OCCULTATION: "Three And Seven" CD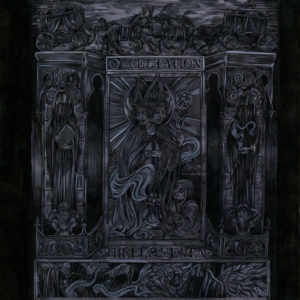 Almost ten years old, this daring trio transcended the occult rock movement with a thick, hazy atmosphere, hypnotic and hallucinatory, thanks in part to Nameless Void)(of Negative Plane) who supplies guitar and organ for the band. His guitar tone sounds like insects swarming underwater, part black metal and part otherworldly character. When combined with the simple rhythms and ghostly singing of bassist MAL and drummer V, this debut album was somehow transformed into a doomed, droning aural miasma that's quite unlike anything else out there. It's a surreal blend of the feminine, the devilish and the psychedelic, which epitomizes how this genre is supposed to sound: Rosemary's Baby recast as a malignant musical opium dream. Timelessly, tirelessly cult!
https://invictusproductions666.bandcamp.com/album/three-and-seven
To order any item from our catalogue, please email pariahchild@yahoo.co.uk for current pricing, shipping, and bundle discounts.