CONVENT GUILT: "Diamond Cut Diamond" LP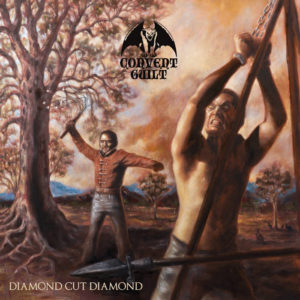 The four years wait between the first and second albums by these Aussies seemed unusually long. It may even have cost them momentum. The response has been somewhat muted. Perhaps it lacks the immediate banger appeal of "Angels in Black Leather" or the "Guns For Hire" title track. It certainly feels like more of a slow burner and will take a few spins before the beauty of these songs open up. Will you commit?
https://conventguilt.bandcamp.com/album/diamond-cut-diamond-2
To order any item from our catalogue, please email pariahchild@yahoo.co.uk for current pricing, shipping, and bundle discounts.